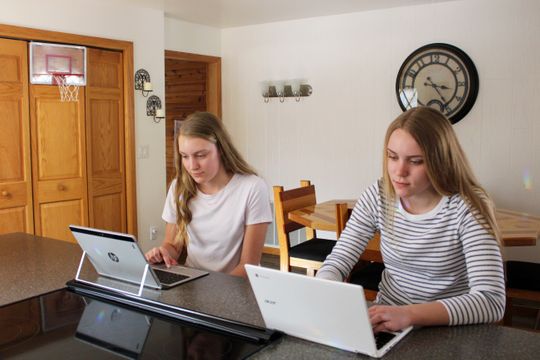 From left, Ashley Bell, 13, and Natalie Bell, 14, daughters of Kyle Bell of Negaunee Township, surf the internet at their home. The Bell family uses Northern Michigan University's expanded internet service. (Photo: Justin Marietti, Special to The Detroit News)
---
After the Chicago and North Western Railway came through Rock at the end of the Civil War, the workers did not leave much behind.
The unincorporated community along M-35, about 15 miles northwest of Gladstone and 45 miles southeast of Ishpeming, is the government seat of Maple Ridge Township in Delta County.
Rock has town offices, a manufacturing firm, a credit union, a post office, a few churches, a couple of bars and not many homes.
It has one traffic light, a blinking caution.
No market research is necessary to know it is not an optimal market for businesses desiring population density, like the providers of internet and cable services.
"The (internet) company that I used to have would not go down a road because there were not 11 people who could tap into their service," said Maple Ridge Township Supervisor Judy Trudell, taking a break from applying for a municipal grant on her desktop computer. "And their lines were right there!
"There never will be 11 people because all the land is all family land, you know? And so, the four families on that road would never see that service."
They have it now, however.
Through the Educational Access Network, Northern Michigan University is providing high-speed internet service to many unserved and under-served areas of the Upper Peninsula.
About 14 million people who live in rural areas of the United States still lack access to the main thoroughfare of cyberspace.
EAN is closing the gap in the U.P.
"I certainly understand companies needing population density," said NMU President Fritz Erickson. "They operate under a different model than we do.
"As a public institution, we're not interested in making money on this. We're interested in providing a service."
The university is also interested in education — of its students, prospective students and the population at large — and mindful of how learning in the 21st century is hampered without internet access.
In a federal study, according to the university, 70 percent of U.S. teachers assign homework online.
By deploying wireless, LTE broadband, NMU is reducing the digital divide.
"We figured out how to do this for our own students, within a 25-mile radius of campus, and we heard from so many people in the community that a son or daughter cannot get on the computer at the house to do homework and other stories," Erickson said.
"We thought, well, shoot, if we can do this for our own students, we ought to be able to do this for everyone else."
To launch the Educational Access Network in 2008, NMU had to receive approval from the Federal Communications Commission, including authorization to tap into the FCC-licensed Educational Broadband Service spectrum in the U.P.
Then the university worked with municipalities and schools, trading use of its wireless network for space on existing public infrastructure, including affordable, readily available LTE equipment. That kept things affordable and compatible with existing computer equipment owned by the public.
Residents and officials say the network established by Northern Michigan provides a faster, more functional service in remote areas.
"The reason that is important is because many web services, educational services, need high-speed internet in order to work efficiently and effectively," said Eric Smith, the director of broadcasting and audio-visual services at NMU.
"The most common challenge with slow internet service is you sit there and wait," Smith said. "You issue a command, and you wait and wait and wait and finally something appears on the screen.
"Where it becomes most prevalent is in streaming media. Videos, audio files — if you don't have a high-speed connection, the truth of it is, it just won't work."
Half of the 90 required transmitters to extend service to all of the U.P. have been commissioned.
More than 50 communities have broadband internet, and 3,300 families are enrolled, with new users signing up at a rate of about 150 per month, as additional transmitters go online.
When fully constructed, the network will provide educational broadband to 21,000 miles of rural communities, 100,000 students and lifelong learners and six Native American communities, according to the university.
"They've got cable internet at school," said Kyle Bell, who teaches industrial arts at the Negaunee Middle School and High School, about four miles east of Ishpeming. "But if students live in town, people can get the EAN and it's a lot more affordable."
Monthly service ranges from $19.95 to $34.95; installation is free, according to the university.
"I am three miles from getting cable internet at home. I asked a company to do an analysis and they said, 'for $700,000, we'll run it out there,'" Bell said. "This thing from Northern has been really fast, and there's no limits on it, no data caps. So my kids are able to watch stuff on their devices. They're able to get their homework done.
"When I'm home, I can get my grading done and do all my school stuff. And all the entertainment benefits of having the internet is nice too. The Netflix and all that stuff."
Trudell says her access to the network can mean the difference between striking "Enter" on her keyboard and driving 120 miles round-trip to submit a grant request.
"The grant I'm working on now is to help the Rock Lions Club for repairs to their center," she said. "And then, I'm going to be work on one for the township, the community center. After this winter, we need some insulation.
"It used to be all on paper. And after you did the paper, you needed to make nine copies of the application and either put it in the mail, or deliver it, which was a 60-mile drive. I'd rather deliver it, because then I know it made it there, on time.
"People are really pleased with what the new system from Northern can help them do. It's opened up the world for a lot of people."
Article courtesy of Greg Krupa, The Detroit News ( gkrupa@detroitnews.com )