Sprint Announces Reduced Costs and Increased Bandwidth for EBS Mobile Hot Spots at NEBSA 2019 Conference
The NEBSA 2019 Conference featured a great deal of information of interest to EBS licensees dealing with current issues including: the FCC's Notice of Proposed Rulemaking, Sprint's technological and 5G plans, and the proposed Sprint – T-Mobile merger.
Patricia Tikkala, Sprint Vice-President, Spectrum Management, provided an overview of Sprint's technological plans and made a major announcement at the NEBSA 2019 Conference that the company has reduced costs and increased bandwidth for EBS mobile hot spots. Ms. Tikkala also discussed Sprint's educational efforts and efforts to move forward with the rollout of 5G.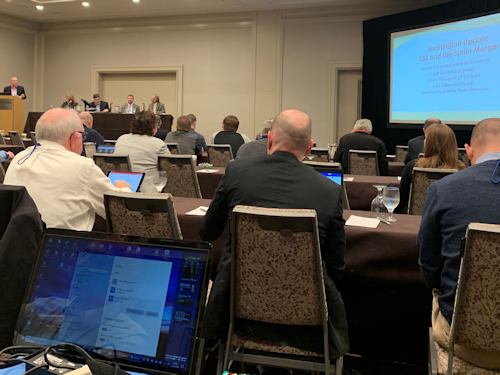 Numerous EBS licensees comprising of educational organizations nationwide, utilize the mobile hot spots to provide educational services, programming and broadband access.
In addition to the Sprint session with Ms. Tikkala, the conference also featured a session focusing on the proposed merger and potential impact on EBS licensees. Additional NEBSA conference sessions focused on the proposed FCC rulemaking, educational impact of EBS efforts, adopting technologies to create lifelong learning, technological adaptions, and regulatory analysis.