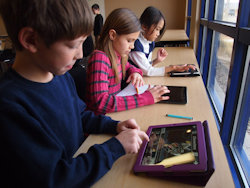 The Educational Broadband Service, or EBS, is a wireless digital communications service under the rules of the Federal Communications Commission (FCC). Historically, the FCC issued licenses for EBS stations only to qualified educational and nonprofit organizations, for the purpose of furthering the educational mission of accredited schools, colleges and universities through video, data or voice transmissions. However, FCC rule changes taking effect on April 27, 2020 now permit EBS licenses also to be held by for-profit and non-educational entities.
EBS stations are licensed and operate pursuant to FCC rules in Part 27, Subpart M of Title 47 of the Code of Federal Regulations.
EBS spectrum was formerly licensed by the FCC in the Instructional Television Fixed Service (ITFS) under rules developed beginning in the 1960s to permit educators to transmit multiple channels of instructional television programming for use in schools and workplaces. In recognition of the transition of instructional video programming to online delivery platforms and the need for additional wireless broadband spectrum, the FCC in 2005 replaced the old ITFS video-centric band plan and technical and operational rules with a new EBS band plan and technical and operational rules intended to encourage the spectrum to be used for wireless data transmissions.
EBS stations were required to be "transitioned" from ITFS operations to EBS operations by October 10, 2010. During the transition from ITFS to EBS, the FCC allowed stations to be taken off the air. Following the transition, by November 1, 2011, all EBS stations were required to demonstrate that they were operating under the new EBS rules and providing "substantial service."
Following the substantial service demonstration in 2011, there were no on-going operational requirements for EBS licenses until September 28, 2020, when the FCC's Discontinuance of Operations rule became applicable to EBS. As of that date, an EBS license will automatically terminate if there is a discontinuance of operations for 180 consecutive days.
Effective as of January 1, 2023, EBS licenses also became subject to new license renewal requirements. Licensees will generally be required to certify in their renewal applications that, over the previous license term (but initially extending back only to September 28, 2020), they have (i) complied with applicable usage/coverage requirements; (ii) complied with applicable regulatory requirements; and (iii) not discontinued operations for 180 consecutive days.
The appliable usage/coverage requirements for legacy EBS licenses (those issued prior to October 25, 2019) require satisfaction of one of the following standards: 30% mobile or point to multipoint coverage of population in Geographic Service Area (GSA) or 6 fixed point to point links per million population in the GSA, or (for legacy licenses still held by educators) continued satisfaction of the old EBS educational use standard of 20 hours per channel per week of service to an accredited school.
For EBS licenses issues after October 25, 2019 (those issued to Tribal entities and through competitive bidding), usage coverage requirements will be 80% mobile or point to multipoint population coverage or 40 fixed point to point links per million population in the GSA.