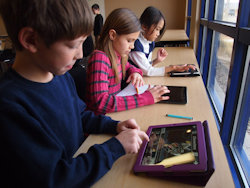 The Educational Broadband Service, or EBS, is a wireless digital communications service under the rules of the Federal Communications Commission (FCC). The FCC issues licenses for EBS stations to qualified educational and nonprofit organizations, for the purpose of furthering the educational mission of accredited schools, colleges and universities through video, data or voice transmissions.
EBS stations are licensed and operate pursuant to FCC rules in Part 27, Subpart M of Title 47 of the Code of Federal Regulations.
EBS spectrum was formerly licensed by the FCC as Instructional Television Fixed Service (ITFS) under rules developed beginning in the 1960s to permit educators to transmit multiple channels of instructional television programming for use in schools and workplaces. In recognition of the transition of instructional video programming to online delivery platforms, and of the need for additional wireless broadband spectrum, the FCC in 2005 replaced the old ITFS video-centric band plan and technical and operational rules with a new EBS band plan and technical and operational rules intended to encourage the spectrum to be used for wireless data transmissions.
EBS stations were required to be "transitioned" from ITFS operations to EBS operations by October 10, 2010. During the transition from ITFS to EBS, the FCC allowed stations to be taken off the air. Following the transition, by November 1, 2011, all EBS stations were required to demonstrate that they were operating under the new EBS rules and providing "substantial service."