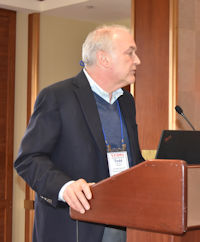 NEBSA Counsel Todd Gray
addresses the 2018 Conference
Topics covered for the regulatory session included: EBS Under Scrutiny, Licensing White Space, Expansion of EBS GSAs to County Boundaries, EBS License Renewal Requirements, Open Eligibility and EBS Educational Use Requirements.
Numerous conference attendees were focused on FCC developments and identifying how EBS licensees can effectively plan for the future. To assist attendees, a comprehensive overview of EBS was provided. Multiple speakers provided their insight into the FCC's "mindset" and goals. Discussions of the time frame for an upcoming Notice of Proposed Rulemaking helped prepare licensees to move forward.
Prospects for significant change remain as EBS licensees await to see what areas are covered in the NPRM. Keeping informed of potential changes as well as forming proper responses and courses of action will be important to all EBS licensees. NEBSA provided critical assistance and information at NEBSA 2018. Additional information and assistance will be needed as regulatory and technological parameters change.